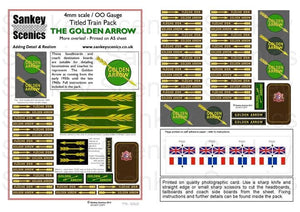 TT4-GOLD SANKEY SCENICS Titled train pack "The Golden Arrow"
Sankey Scenics
French Railways introduced the "Fleche D'Or" in 1926 as an all first class Pullman service between Paris and Calais. 
On the 15th May, 1929 the Southern Railway introduced the equivalent between London and Dover. 
The train usually consisted of ten British Pullman cars pulled by one of the Southern Railways |Lord Nelson" class locomotives. 
The train service ceased at the outbreak of the Second World War in 1939 and resumed in April 19+46. 
In 1951 a new set of Pullmans was built as part of British Railways celebration of the Festival of Britain. 
In 1961 with the Kent coast electrification scheme the train became electric hauled.  A decline in demand for rail travel between London and Paris saw the last "Golden Arrow" run in September 1972.