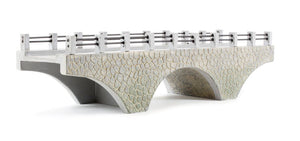 R9732 HORNBY SKALEDALE Rail Over River Bridge
Hornby
Regular price $45.00 $28.00 Sale
The Rail Over River Bridge will bring that authentic railway atmosphere to your model railway layout.

Skaledale, a place somewhere not far from anywhere! A town or village which is full of life and timeless.
Skaledale is always changing just like any other place. There are churches of various denominations, shops, pubs, schools and houses of all shapes and sizes.
This latest collection of Skaledale properties bring life and atmosphere to any '00' scale model railway.
The hand crafted and hand decorated poly resin structures can be positioned on a layout without further enhancement; however a small amount of additional weathering can make all the difference.