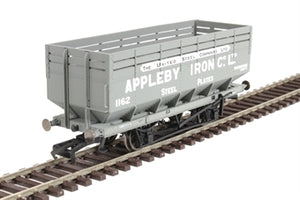 R6821A HORNBY LMS 20 ton coke wagon "Appleby Iron Company, Frodingham"
Hornby
Regular price $45.00 Sale
At Nationalisation in 1948, British Rail inherited the 200 LMS and 600 or so private owner wagons and they continued in service through to the late 1950s/early 1960s before being withdrawn.
With the design being as functional as it was, the first BR derivatives came from these early LMS wagons, the main difference being that they were fitted with plain front axle boxes, metal side and end raves and tie bars.
Over the next ten years, over 2000 wagons were built to three different diagrams, with subtle modifications to the design.