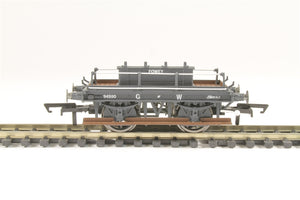 R6642D HORNBY GWR Shunter's Truck "FOWEY" 94990
Hornby
Regular price $28.00 Sale
GWR Shunters Truck 40148 Acton
These small wagons were provided for shunters in the GWR to provide a safe riding vehicle plus a mobile store for shunting poles, brake sticks, wheel chocks and spare lamps.
The truck also provided a useful spacer between the locomotive and wagons being shunted, so wagons could be positioned in or collected from inside a goods shed without the locomotive having to enter the building.

This model is finished in the GWR goods grey livery as a truck allocated to the Acton marshaling yard on the western edge of London.
Entered Service: 1917