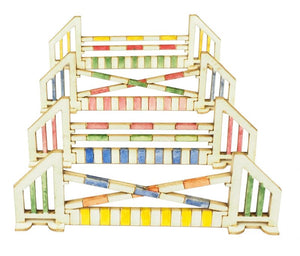 PO511 METCALFE Show Jumps - OO scale
Metcalfe
Regular price $17.00 Sale
This pack contains a set of 4 show jumps, a pair of cross style and a pair of 2 straight bar.
For owners of the OO/HO scale Stable Block kit (MEPO256), here is the ideal accessory to complete the scene.
Please note that the jumps are not supplied painted, but can easily be brightened up using watercolour paints or colour pencils. Oh, and another thing: don't forget your HO/OO Scale horses!
Looking for something to stick this kit together with? We recommend Deluxe Materials DLAD-57 Roket Card Glue. To help prevent unwanted glue spills when constructing it is advisable to use a MEMT907 Fine Glue Applicator Bottle.