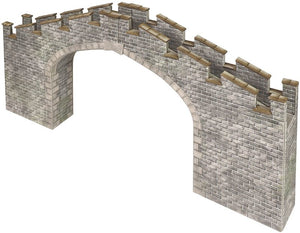 PO296 METCALFE Castle Wall Bridge - OO scale
Metcalfe
Regular price $23.00 Sale
An opening in the medieval castle or town curtain wall to allow modern day rail or roadway to pass through.
Examples of openings in old fortified town and city walls can be found in places like Conwy and York where alterations were made when the railways came.
The sections can also be used as a wall riser to reach higher levels.
Looking for something to stick this kit together with? We recommend Deluxe Materials DLAD-57 Roket Card Glue. To help prevent unwanted glue spills when constructing it is advisable to use a MEMT907 Fine Glue Applicator Bottle.