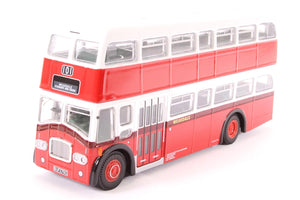 OM41901 CORGI ORIGINAL OMNIBUS Leyland PD3 "Queen Mary" Weardale Motor Services (boxed)
Corgi Used
Regular price $35.00 Sale
Like new
"Stanhope and Crook" bus route
In original box 
Limited Edition: Number 2626 of 2800
 This model was delivered to Southdown in April 1965 and allocated to Brighton where it spent its entire Southdown career apart from some months in Eastbourne from 1973 to 1974.
Unusually it spent all that time with the parent company working from Edward street garage and never worked for the old BH&D operation which Southdown took over in 1969. 
In 1978 this model joined several other Queen Mary's working for the Weardale Motor Services in the beautiful Wear Valley area of County Durham. 
They were used on school duties and occasionally on regular service routes. 
This bus was famously described by one Weardale driver as "a plodder that gets there in the end". 
She is now the only Weardale Mary still intact and in Weardale livery in the hands of Sussex preservationists since 1992.