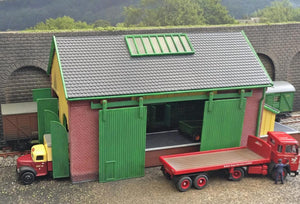 GM482 GAUGEMASTER Fordhampton Goods Shed
Gaugemaster
Regular price $36.00 Sale
Fordhampton Goods Depot has its own shed, which includes an internal and a short external loading dock. There are two sets of operating doors for the track and a single pair for a loading bay, to take a van or small truck. The two main doors on the side of the building can also be slid into open or closed positions. While some parts are moulded in green and yellow of the Southern Railway these, of course, can be painted to suit any region or period and many structures like this survive today as part of builder's merchants.
Contains 1x OO Scale pre-coloured plastic kit in 84 parts and moulded in 4 colours and clear parts, with full instructions. Additional painting and weathering can be applied to enhance the model.
Length: 295mm
Width: 100mm
Height: 125mm
Additional painting may be required if desired.
This kit requires a Plastic Cement Glue to construct.