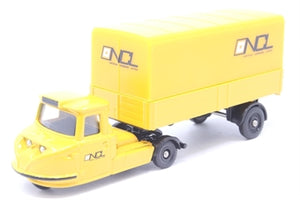 DG206003 CORGI (LLEDO) Scammel Townsman Box Trailer "National Carriers Ltd."
Corgi
Regular price $26.00 Sale
The highly innovative Scammell Mechanical Horse appeared in 1933, literally as a replacement for horde-drawn carts, and sold in large numbers to the railway companies.
Scammell's highly successful Scarab, launched in 1948, was the modern replacement for the original Mechanical Horse.
The Scarab, aimed mainly at the railway companies, ceased production in 1968.
The Scammell Townsman was the ultimate development of the Mechanical Horse. It was in production from 1964 to 1968. It was faster and more comfortable than the Scarab and featured a fibreglass cab. Power came from a Standard diesel engine.