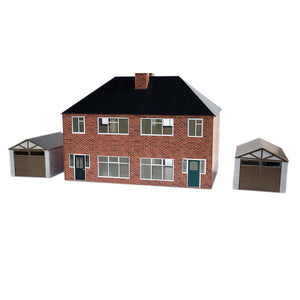 ATD001 ATDModels 1930's Semi-Detached House
ATD Models
Regular price $25.00 Sale
The 1930's semi-detached house kit is ideal to complete any residential scene over a variety of eras found across the U.K.  A pair of asbestos garages and variety of door styles enabling customisation are included.  

Ideal for use with fencing kits: ATD003, ATD005, ATD015 and ATD016 and shed kits ATD004 and ATD017.
ATD Models card kits are supplied printed full colour, pre cut and creased for ease and quality of build.
Included with all kits are easy to follow instructions and printed glazing.

This model requires gluing to complete, We recommend Deluxe Roket Card Glue glue to construct this model.