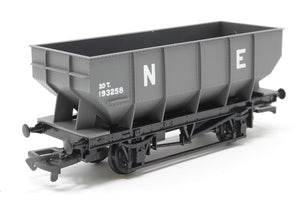 937357 MAINLINE N.E. 21 Ton Hopper wagon "193258"
Mainline
Regular price $22.00 Sale
  like new
This model is based on  an LNER 20 ton coal hopper wagon design of 1936 for use in the North East.  At nationalisation the LNER handed over more than 8000 of them to BR, who continued to build more as their standard 21 ton hopper wagon.  They were built by a number of different firms and later by BR Shildon Works, so there were detail differences.  They had two bottom doors for gravity unloading.
The Airfix tooling passed to Palitoy in 1981 and to Dapol in 1985 and was also used for the Mainline wagons.  Hornby purchased the tooling in 1996 and still make the model.
My dad and both my grandfathers built the full size wagons at Shildon Works.