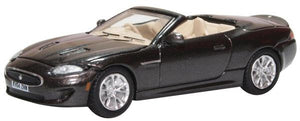 76XK005 OXFORD DIECAST Jaguar XK stratus grey
OXFORD
Regular price $15.00 Sale
Style and sophistication come to mind with this beautiful open-topped sports car from Jaguar.
Launched in 2013, the top-of-the-range two-door convertible features sleek lines with the bonnet bearing a slight resemblance to its iconic E-Type 1970s cousin though naturally 50 years on, it benefits from modern age technical and mechanical advances.
Decorated in an elegant dark grey with oyster white seats, black dashboard and black tonneau, it is registered RV64 ZNW, the second year of production.
The distinctive lozenge shaped grille incorporates the Jaguar badge while the beast itself features across the boot above the number plate.