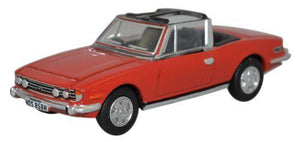 76TS003 OXFORD DIECAST Triumph Stag in pimiento red
OXFORD
Regular price $15.00 Sale
The Triumph Stag sports tourer was a British car made by the Triumph Motor Company between 1970 and 1977.
Classed as a four seater convertible coupé, it had been designed by Italian designer Giovanni Michelotti.
Fitted with a 3.0L V8 engine, it was highly desirable and proved to be one of the IT cars of the era!  An option for purchasers was a removable canvas top which later became standard.
 This Stag model has a  colour scheme of pimiento red with black interior.  
The characteristic Triumph radiator features the silver leaping stag in the centre of the chrome and black grille.  The stag badge is also embedded into the rear bumper. 
The Triumph Stag has been the 'star' of several TV programmes and films.  James Bond fans may recall in Diamonds are Forever, Sean Connery commandeering a Stag from a diamond smuggler!