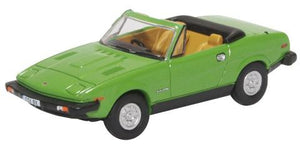 76TR7001 OXFORD DIECAST Triumph TR7 convertible in triton green
OXFORD
Regular price $15.00 Sale
The iconic British made Triumph TR7 from the 1970s and early 1980s joins Oxford's 1:76 line-up of classic sports cars.
Making its debut as the convertible two-seater with hood down, our brand new model is registered GSX 8X sporting a 2.0 litre engine from 1981-82, the last year of production.
The TR7, designed by Harris Mann, was manufactured by the Triumph Motor Company and then British Leyland from late in 1974 to the end of 1981.
Nearly 113,000 rolled off the production line and it was initially such a big hit in the United States of America that we in the UK had to wait until May 1976 before we could get our hands on one!
It came as a 2-door roadster and 2-door coupe with either a four or five speed manual gearbox or a three speed automatic.
Our detailed replica appears in a very bright lime green with ochre coloured seating and floor. All trim is finished in black, including bumpers, tonneau cover and the Triumph TR7 graphics across the boot.
The detailed Triumph badge incorporating their famous laurel wreath logo sits on the front of the bonnet and the finely executed wheel trims are finished in silver.