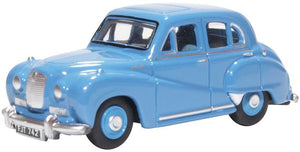 76SOM003 OXFORD DIECAST Austin Somerset blue
OXFORD
Regular price $15.00 Sale
Oxford's model of the mid 1950s British saloon, the Austin Somerset appears in a foggy blue reminiscent perhaps of the misty Romney marshes landscape.
It is brightened up by the wealth of contrasting silver trim to window surrounds, radiator grille, bumpers and lights, as well as the skirt running the length of the sides, while the wheel rims echo the body colour.
Registered FJT 742, the model sports a pale grey interior with a final detail depicting the Austin of England badge proudly printed in silver on the bonnet sides.
The Austin Somerset was classed in real life as a medium sized four-door family car, produced at Austin's Longbridge factory between 1952 and 1954, when it was superseded by the Austin Cambridge.