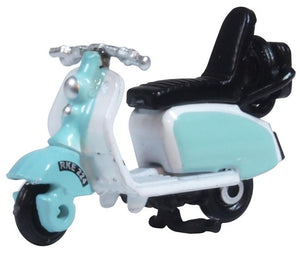 76SC001 OXFORD DIECAST Scooter Blue and White
OXFORD
Regular price $12.00 Sale
This takes us right back to the 1960s, the age of miniskirts, hotpants,  stiletto heels,  white patent leather thigh boots,  black eyeliner, mods and rockers, tigers in the tank  and sheer fun! 
The scooter was THE mode of transport for that generation, epitomised too by it starring in movies of the day, with famous young actresses/fashion icons sitting side saddle behind gorgeous leading men, weaving through Mediterranean streets.
Our UK seaside venues were full of them too at weekends, when the young parka-clad mods streamed into town, their scooters emblazoned with badges on the front and pennants on poles behind the seat.
In a summery pale blue for the main bodywork  with white front guard and white wheels, all enhanced with chrome detailing.
The seat, made for a pillion passenger too, is moulded in black.
The handle bars and brakes are finished in chrome, as is the headlight surround on the front.
This model is registered RKE 224, so definitely pre 1962.