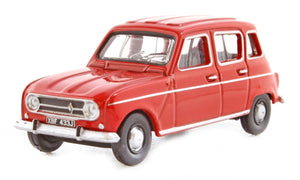 76RN002 OXFORD DIECAST Renault 4 in red
OXFORD
Regular price $15.00 Sale
The Oxford Automobiles range continues the French connection with the second outing of the 1960s Renault 4.
This iconic little motor appears in bright red with lots of silver trim, black and silver bumpers and a dark grey interior. It has a British registration plate XBF 433J from 1970. 
Looks are deceptive and the Renault 4 was quite versatile; as well as the four door small and economical family saloon modelled here, it came in various formats including a 2-door pickup, 2-dor van or a 5-door estate car with opening hatchback feature. 
There was an option of either a 3-speed or 4-speed gearbox with a top speed of 65 mph. 
Adding to its cult status, it had an incredible lifespan, being manufactured well into the 1990s with an equally impressive 8 million rolling off the production line.
What's more, they seem to go on forever. 
Even today, you can pick one up for as little as £5500.