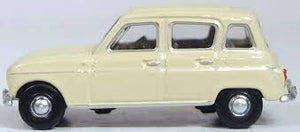 76RN001 OXFORD DIECAST Renault 4 in beige
OXFORD
Regular price $15.00 Sale
The Renault 4 had an amazing life-span in real life from 1961 right up to the early 1990s, during which time over 8 million were produced. 
Launched alongside its sister, the Renault 3 in July 1961 as a simple economical family car.
The Renault 4 came as a 2-door pickup, 2-door van or a 5-door estate car, complete with its opening 'hatch-back' feature. Suitable for rural life, farming and village communities,  which had been the domain of Renault's competitor the Citroen 2CV, the Renault 4 was also geared up for city life, with a good level of comfort, good suspension and with a larger engine.
It had the option of a 3-speed manual or 4-speed manual gearbox and a top speed of 65 mph.
A cheaper version omitted the quarter lights behind the rear seats but this option eventually became the norm and the extra windows were fitted as standard.
Our model is a replica of the 5-door estate Renault 4, complete with quarter lights.
It is registered JVJ 410E from 1967
Decorated in the Renault 4 distinctive colour scheme of beige with lots of exterior silver trim. The silver bumpers also feature authentic black overriders. 
Inside, the seats are pale brown while the dashboard is dark grey with a copper brown steering wheel. The headlights are integrated into the black and silver radiator and notice the Renault badge sitting off centre on the horizontal radiator bar.
The Renault 4 was also a popular model in racing/rallying circles, such was its versatility and appeal.
In the meantime, this lovely little model epitomises French provincial style, including the variety of uses it was put to.
  It was particularly popular as the essential baker's van. We can smell those baguettes and croissants already.