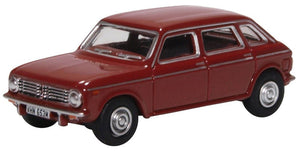 76MX002 OXFORD DIECAST Austin Maxi Harvest Damask Red
OXFORD
Regular price $15.00 Sale
The Austin Maxi in authentic deep red, one of its most popular colour schemes of the day, which looks particularly good against the extensive level of exterior silver trim.
The Maxi was the last car designed by Sir Alec Issigonis and was manufactured between 1969 and 1981.
This model is registered VHN 653M from 1973-74
As you can see from the Maxi badge on the front radiator grille, is based on the 1750 HL which had a top speed of 97 mph, twin carburettors and general all round performance.
The interior is moulded in a brown red shade to match the exterior bodywork.