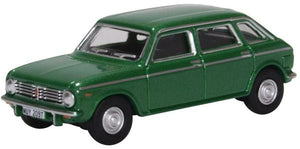 76MX001 OXFORD DIECAST Austin Maxi Harvest Tara Green
OXFORD
Regular price $15.00 Sale
This Austin Maxi, manufactured  between 1969 and 1981.
A1:76 scale classic British car, the Austin Maxi, manufactured by Austin and then British Leyland between 1969 and 1981.
Described as a medium sized family car with a five door hatchback configuration and was fitted with a five-speed gearbox.
The Austin Maxi was the last car designed by Sir Alec Issigonis and was assembled at the Cowley Works, Oxford.
An unusual feature was the back seat which folded back as well as forward. The front seats also reclined sufficiently far to enable occupants to sleep in the car!
We see it in a bright metallic green with black interior, registered NUY 209T from 1978/79.
As you can see from the nomenclature on the back, it is modelled as the Maxi 1750 HLS which in real-life sported a twin-carburettor offering good standards of performance for its day, including a top speed of 97 mph.
Silver trim to door handles, wheels, bumpers, window surrounds and along the waist of the car also extends to the radiator grille, which is wiped black.
A final detail is the Maxi 1750 badge embedded into the centre of the radiator.