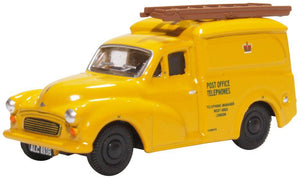 76MM061 OXFORD DIECAST Morris 1000 Van Post Office Telephones yellow
OXFORD
Regular price $15.00 Sale
With a registration plate ALC 893B, this little Post Office Telephones Van from 1964 would have started out life in the traditional bronze green.
The new corporate colour scheme of bright yellow Post Office Telephones came into force in 1968, following which all previous vehicles would have been re-painted.
Our model also features dark green lettering on the sides along with the Crown cipher.
One other difference to disappear after 1968 were the Telephone Manager's details which were phased out from 1973 onwards. this model includes him as covering the West Area London.
A light brown roof ladder sits on a black roof rack and additional detail sees the body colour extending to the bumpers. The van interior is finished in black.