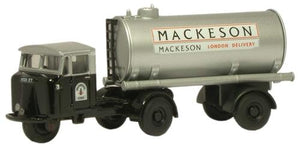 76MH013 OXFORD DIECAST Mackeson Mechanical Horse Tank Trailer
OXFORD
Regular price $24.00 Sale
In Mackeson's Milk Stout livery, the 3-wheel Mechanical Horse pulling a tank trailer for this famous brewer.
The Mechanical Horse was the first vehicle of its kind, designed by Oliver North and manufactured by Scammell back in 1934.
It was so named, as its purpose was to replace horses in rail, postal and delivery circles. It was so manoeuvrable.
It could be steered through 360 degrees and lasted until well into the 1940s, when Scammell replaced the Mechanical Horse with the famous Scarab.