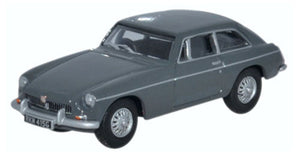 76MGBGT002 OXFORD DIECAST MGB GT in grampian grey
OXFORD
Regular price $15.00 Sale
Our MGB GT represents the original sports car that superseded the MGA in 1962.
To complement our first release which came in bright red, here we see it in a classy dark grey with silver trim and a black interior.
Registered RKM 145G from 1968-69, the finely executed wheels and bumpers are also finished in silver.
The distinctive MG badge sits above the chrome radiator with the MGB GT logo across the boot, rounding off a great looking replica of one of the nation's favourite sporting motors which lasted from the early 1960s right up to 1980.