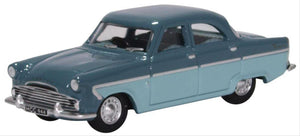 76FZ001 OXFORD DIECAST Ford Zodiac Mk2 shark blue and pompodour blue
OXFORD
Regular price $15.00 Sale
Manufactured by Ford of Great Britain, the Ford Zodiac was the luxury version of the Ford Zephyr, with the name coming to the fore in 1950 and lasting until 1972 when the marque was superseded by the Granada and the updated Consul. Along with the Zephyr, they remained Ford's largest saloon cars throughout the period.
The Zodiac Mk II was manufactured in Dagenham, Essex in 1956 and production lasted until 1962.
The upmarket four door Zodiac Mk II had several alterations to distinguish it including elaborate tailfins and a wide front grille. However, there was an absence of auxiliary lamps and wing mirrors although it retained the two-tone paint of the Mk I, whitewall tyres, chrome wheel trim and gold plated badges.
It had a top speed of 87.9 mph and could accelerate from 0-60 in 17.1 seconds. Fuel consumption averaged 21.5 mpg and it cost around £968 on the road.
1:76 scale Ford Zodiac Mk II is presented with a delicate two-tone mix of blues with the signature gold Zodiac lettering, wide radiator grille and silver trim.
It is registered HCC 944 and is rounded off with a pale blue interior and black steering wheel. A great addition to your Ford saloon car timeline of the period!