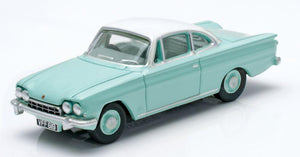 76FCC002 OXFORD DIECAST Ford Consul Capri Caribbean Turquoise/ermine white
OXFORD
Regular price $15.00 Sale
The Ford Consul Capri appears this time in a bright summery turquoise and off-white colour scheme registered VFF 619.  
The pale blue is also echoed in the wheels whilst the interior is moulded in a slightly more muted pale blue.  A particular feature on the model is the fine radiator grille finished in silver.
In its day, the Ford Consul Capri was popular both in the USA and the UK with its sporty appearance, elegant lines and the pillarless coupé roof.  
The 2-door Capri also featured 'extras' including four headlights, variable speed wipers and front disc brakes, all quite innovative for its time! 
Its four-speed gearbox location was also one of personal choice – either column or floor mounted.
It is indeed a very pretty car which would attract attention even today.