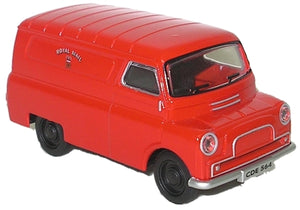 76CA007 OXFORD DIECAST Bedford CA Van Royal Mail Van
Oxford
Regular price $15.00 Sale
This Bedford CA is based on the 15 cwt series which was produced between 1959 and 1969.
The Bedford CA had a 90 inch wheelbase, quite small by today's standards, so they launched a 102 inch version which was designated the CAL, hence the CA became known as the CAS.
The Post Office bought its first vehicle a Maudslay in 1907 and presumably the red on the vans was chosen because red had been used pillar boxes since the 1870's to increase visibility; originally they had been green.
Since then the The Royal Mail has run many thousand of vehicles delivering mail door to door across the country.