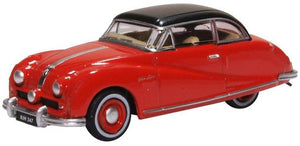 76ATL005 OXFORD DIECAST Austin Atlantic saloon
OXFORD
Regular price $15.00 Sale
The Austin Atlantic saloon was one of the first post-war cars produced in its entirety by the Austin Motor Company.
It was launched in 1949 and production lasted until 1952.
Just under 8000 were produced, half of which were exported, including a small number to the USA.
It came as a four-seater, either a 2-door coupe or 2-door convertible. The car had a top speed of just over 90 mph, did 0-60 in 16.6 seconds and its fuel consumption was nearly 22 mpg.
When new, it cost £824 including taxes.
The Austin Atlantic makes its appearance in bright red with black masked tonneau and ivory interior, registered NJH 347.
Exterior trim is in silver and chrome and we like the whitewall tyres with a red finish particularly.
The colourful Austin badge sits vertically on the narrow radiator grille with the Austin of England name printed in silver behind the front wheel arches.