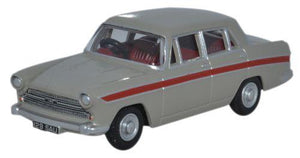 76ACF002 OXFORD DIECAST Austin Cambridge Armadillo beige
OXFORD
Regular price $15.00 Sale
The Austin Cambridge appears in another very popular scheme of the time - warm beige with red flash along the body which sits in a chrome surround. The same deep red is reflected in the interior seating.
Registered 129 SAU, the model also features the wealth of silver trim of the original including bumpers, wheels, radiator grille, door handles and window surrounds.
The black and white Austin badge is applied to the radiator and the Austin Cambridge signature printed in silver runs across the boot.
The Austin Cambridge A60 was launched in 1961 and ceased production in 1969, during which time over 276,000 were made. It was classed as a four-door family car with rear seating for three people, a 1.6L engine and 3-speed gearbox.
This model also features the reduced tail fins and the slightly longer wheelbase chassis, just like the real thing!