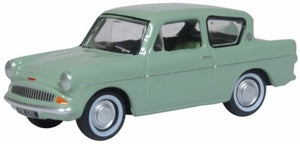 76105010 OXFORD DIECAST Ford Anglia in spruce green
OXFORD
Regular price $15.00 Sale
The Ford Motor Company introduced their fourth generation of the Anglia name, the 105E, in 1959 characterised by its unique backward slanting rear window.
Until it ceased manufacture in 1967, over 1 million cars rolled off its Dagenham production line.
  It came as a 2-door saloon, 3-door estate and a 2-door panel van. 
Oxford's saloon version is based on what was called a small family car.  It sported a 997 cc engine and was capable of a top speed of 73.8 mph, accelerating from 0-60 in 26.9 seconds. With fuel consumption of 41 miles per gallon, it cost £610 on the road.
The 105E is decorated in a delicate shade of pale green with a grass green interior. Registered EYM 725C from 1965, external trim is finished in silver, including the Anglia name across the boot lid. The wide curved radiator grille and the whitewall tyres are a nod to the American influence on British cars of the period.