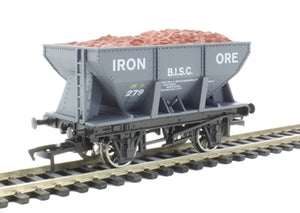 4F-033-104 DAPOL 24 ton Hopper BISC
DAPOL
Regular price $26.00 Sale
 The 24 ton steel ore hopper wagon was originally drawn up and produced by Charles Roberts of Wakefield in the early 1930s and very similar vehicles were also produced by other manufacturers from around this time.
Originally, they were supplied to private owners, rather than the main railway companies, and their principle use was for the carriage of iron ore to the various steelworks.
In later years, although their main use was still for ore traffic, they were also used for a variety of other loads including coal for which they carried a reduced tonnage.
They were finally decommissioned in the early 1980s with several surviving into preservation.
MODEL
These model 24T steel ore hopper wagons are highly detailed and will be a great addition to your rolling stock.
FEATURES
Profiled wheels
Highly detailed body moulding
Superbly printed livery and details
NEM pockets with self-centring couplings