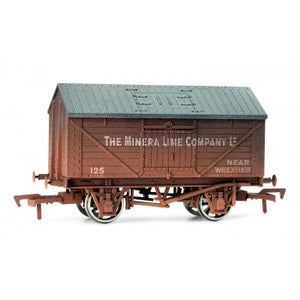 4F-017-002 DAPOL Lime wagon "Minera Lime" (weathered)
DAPOL
Regular price $26.00 Sale
 The production of lime is an ancient process and reflects the importance the product has played in human development through the ages.
Lime is a key ingredient in building materials such as mortar and cement, it is also an essential ingredient in many chemical processes, from the food industry to the manufacture of steel and bleach.
Moreover, prior to major industrialisation lime has also played an important role in agriculture as a soil pH regulator and conditioner and no doubt these covered lime wagons would have been a regular sight in areas of major agriculture.
These Lime wagons are highly detailed and will be a great addition to your rolling stock.
FEATURES
Profiled detailed spoked wheels
Finely detailed body and chassis
Detailed and finely printed graphics
NEM pockets with self-centring couplings