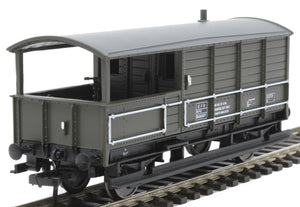 33-300W BACHMANN 20 Ton Toad Brake Van ZTO number DW35377
Bachmann
Regular price $32.00 Sale
The Toad is a brake van, designed by and built for the Great Western Railway.
Introduced by the GWR in 1894, and used from 1948 by the Western Region of British Railways, its role was a safety brake on goods trains in the West of England, the Midlands and Wales.  
As with all GWR wagons and non-passenger carrying coaches, its operating code "Toad" was derived from the GWR's telegraphic code for a brake van.  
The last Toad brake vans remained in service into the 1970s; phasing out occurred along with the network wide reduction in brake van duties, although many passed to the Engineers and ended their days in departmental service.  
The Toad brake van is a familiar sight on preserved railways, because the large veranda is capable of carrying staff or passengers; it is also popular due to the Thomas & Friends ™ character of the same name.