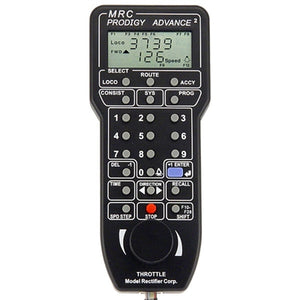 MRC-0001415 MRC Handheld for Prodigy Advance 2 "Squared"
MRC
Regular price $195.00 Sale
The Express system is fully compatible with MRC's full-feature Prodigy Advance system.
Upgrade your Express system to include all the extra features found with the Advance system by simply adding a Prodigy Advance cab to the Express base station. Since you'd need to have more than one cab to add a second operator anyway, this is a very easy upgrade; however, for the throttles to work properly, be sure to assign each cab its own address, as explained in the owner's manual.

Features:
Program all CV's

Two or Four digit addressing (0-9999 addresses available)

Advanced and Universal consisting

Simultaneously run multiple throttles

Program CV's on the main

Program on the main or on the program track

Recall and stack features

Decoder Readback

Set handheld for "yard" mode or "mainline" mode

Turnout Routing

Accessory button

Fast Clock with adjustable ratios

Handheld with: 

Back lit display