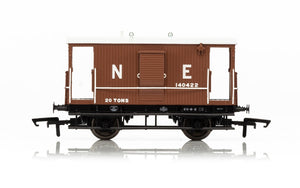 R6833A HORNBY LNER, Dia.034 'Toad B' 20T Brake Van 140526 - Era 3
Hornby
Regular price $42.00 Sale
NEW TOOL
As the newly formed London & North Eastern Railway's older, pre-grouping type of brake vans reached the end of their working lives, a programme of renewal was put in place. An outstanding ten ton North Eastern design was completed during 1923 but the first new design, coming in 1924, was a nineteen foot, twenty ton brake van that took the best features from the former Great Northern and North East Railway types.
Designated as Diagram 034 and coded as Toad B, these new vans had steel solebars and headstocks, vertical wooden planking on the sides and ends, plus a wooden side ducket with horizontal wooden planking. There were 710 Toad B vans built between 1924 and 1929, in seven lots, at Faverdale, Dukinfield, Stableford, Birmingham and Doncaster, as well as an unusual concrete bodied version at Stratford that was nominally designated under Diagram 34.
Minor details were improved in production over the next six years, such as the original wooden end posts being replaced by short 'tee' irons and, from 1930 onwards, steel side duckets replaced the wooden ones.