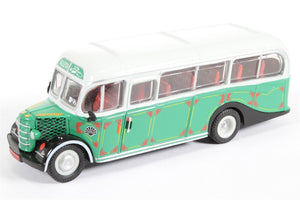 OM42601 CORGI ORIGINAL OMNIBUS Bedford OB Duple/Vista coach "Malta" (boxed)
Corgi Used
Regular price $28.00 Sale
Like new
In original box 

Fitted with a 27.34 horsepower petrol engine, and had a four-speed manual gearbox and fully floating rear axle. The brakes were of the vacuum servo-assisted hydraulic type.

Although only 73 were built prior to the cessation of production due to World War II, it reappeared in a largely unchanged form at the end of the war, continuing in production until 1951.
A total of 12,766 were produced, making it one of the most popular buses of its type ever.
Bedford co-developed with Duple the "Vista" coachwork for the OB, fronted by a classic bullnose.
The ash framework was reinforced with steel, and the floor made from hardwood with softwood tongued and grooved boarding, with the exception of the cab area which was finished with alloy chequerplate.
Seating capacity was normally 29 with overhead luggage racks provided for passengers, whilst the rear luggage boot was also used to store the spare wheel.
The price of a complete coach, including finishing in a two-colour livery, was £1,314.10s for a 27-seater, and £1,325.10s for a twenty nine seater.[1]
Geared to reach speeds of at least 40 miles per hour (64 km/h), which was fast for its day, the OB is remembered by many for its characteristic gearbox whine.