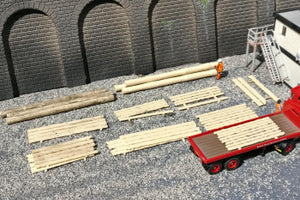 GM459 GAUGEMASTER Fordhampton Assorted Timber set
Gaugemaster
Regular price $11.00 Sale
This timber set contains plastic mouldings, representing both cut and uncut wood and would be suitable to use in a lumber yard, builder's merchants, or to create a logging scene.
The set features six large logs and various cut timber mounted on beams. These can be cut free to represent separate planks if required.
The set comes moulded in a neutral wood colour and can be painted as required.
Contains a total of 16 individual parts of varying sizes.
Perfect for making loads for road or rail vehicles