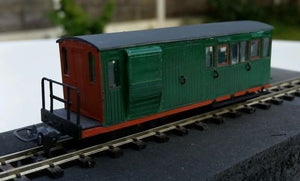 DM59 PARKSIDE Festiniog Railway bogie luggage brake/3rd coach No.10
Parkside
Regular price $24.00 Sale
This vehicle was rebuilt in Boston lodge workshops of the Festiniog railways from bogie luggage brake van No.2 in 1921 and was withdrawn in the late 1950s.
In the early days of the FR revival it was one of the few vehicles to run.
Since it had a little of everything it was the ideal vehicle for early trips up the line. Restoration began in late 1980s and ran in service again in late 1991.
 These finely moulded plastic wagon kits come complete with pin point axle wheels.
Glue and paint will be required, along with appropriate transfers.
Recommended to be used with:
PECO 009 Irregular and Mainline Code 80 Setrack and Streamline track systems