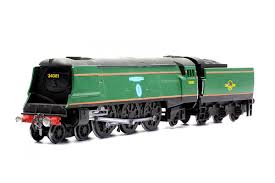 C085 DAPOL Battle of Britain Class 4-6-2 "Fighter Pilot" steam loco (plastic kit)
DAPOL
Regular price $10.00 Sale
Battle of Britain Class 4-6-2 "Fighter Pilot" steam loco plastic kit
Kit will require assembly, painting and supplied transfers applying.
Please note model shown is  92 Squadron, but is identical except for decals.
The Southern Railway introduced this new type of Pacific (4-6-2) locomotive in 1947 for use on the main train lines throughout the system.
The locomotives, officially designated Battle of Britain Class are similar in outward appearance to the well-known West Country Class. They were designed to be as light as possible and yet to develop high power to enable them to haul heavy passenger and freight trains over any of the main lines.
Forty-two of these 3-cylinder, simple expansion, high-pressure locomotives had been built, these forming the Battle of Britain Class.
Welding has played an important part in the building of the engines and their tenders, and has contributed significantly to the reduction in weight.
All the new features introduced on the West County Class had been retained in the Battle of Britain Class and these included air smooth casing, bulloid patent valve gear B.F.B., cast type wheel centres, clasp brakes, thermic siphons in the boiler and automatic lubrication of the motion.
Differences that can be observed between the west Country and Battle of Britain Class locomotives are in the shape of the cab and in the size of the smoke deflector plates.
Every comfort had been arranged for the engine crews, special provision being made with screens behind the drivers seat to prevent draught and to give a better view when the engine was running tender first. The controls in the cab had been arranged for the convenience of the driver and fireman, the arrangement being such that the whole of the operations carried out by the driver could be performed from his side of the cab.
These locomotives, like the Merchant Navy Class, are also fitted with turbo generators for providing electric light for the engine, tender code lamps, the cab and gauges. The grates have been so arranged that the bars can be shaken by a lever in the cab that breaks up any clinker that may form and gets rid of any accumulation of ash.