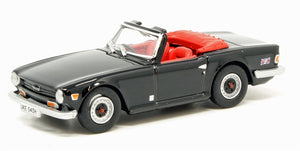 76TR6004 OXFORD DIECAST Triumph TR6 in black
OXFORD
Regular price $15.00 Sale
The gleaming body colour is then set against the silver external fittings including the bumpers, door handles, wipers and wheels.
Notice the red boss in the centre of the wheels too.
The TR6 was made in Coventry at the Triumph Motor Company works between 1968 and 1976.
The TR6 was classed as a roadster with a 2.5 litre straight 6 engine, 4-speed manual gearbox and optional overdrive.
In real life, the TR6 was so popular that the majority of the 92,000 made during its production period were for the export market.