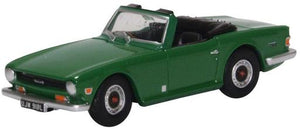 76TR6003 OXFORD DIECAST Triumph TR6 Emerald Green
OXFORD
Regular price $15.00 Sale
The Triumph TR6 in a superb emerald green model with tan dashboard, door cappings and steering wheel against an otherwise black interior.
The gleaming body colour is then set against the silver external fittings including the bumpers, door handles, wipers and wheels.
Notice the red boss in the centre of the wheels too.
The TR6 was made in Coventry at the Triumph Motor Company works between 1968 and 1976.
Our model is registered UJW 918L from 1972-73.
The TR6 was classed as a roadster with a 2.5 litre straight 6 engine, 4-speed manual gearbox and optional overdrive.
You will see from the lettering across the back of our model that it features Overdrive!
In real life, the TR6 was so popular that the majority of the 92,000 made during its production period were for the export market.