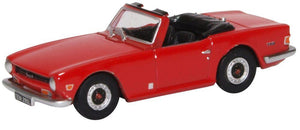 76TR6002 OXFORD DIECAST Triumph TR6 Signal Red
OXFORD
Regular price $15.00 Sale
The open topped TR6 sportscar in bright red with black interior, registered TEN 295L from 1972. 
Highly popular in its day, the TR6 was manufactured by the Triumph Motor Company between 1968 and 1976, during which time over 92,000 rolled off the production line. 
This model features a clue to one of the manufacturing options – a 4-speed manual gearbox with Overdrive, with the TR6 Overdrive lettering reproduced in chrome and black on the offside rear.  Other details include a black tonneau cover, walnut dashboard and a red boss to the silver/black wheels.   
We imagine warm sunny days and carefree motoring along quiet British country lanes here!