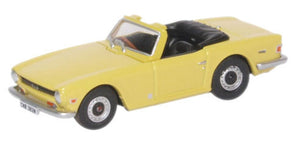 76TR6001 OXFORD DIECAST Triumph TR6 in mimosa yellow
OXFORD
Regular price $15.00 Sale
Made in Coventry by the Triumph Motor Company between 1968 and 1976, records indicate that the triumph TR6 are still owned and run by enthusiasts even today.
The TR6 was classed as a roadster with a 2.5 litre straight 6 engine, 4 speed manual gearbox with optional overdrive, independent rear suspension, rack and pinion steering, disc brakes on the front and drums on the rear. It also came with a hard top option.
For our first release, our TR6 comes as an open topped roadster in vivid yellow with black tonneau cover. The interior is also black, including the seating, with tan 'walnut' effect dashboard and tan steering wheel. The detailed wheels feature black centres with a red boss, while additional trim is finished in silver. Registered CNB 382M from 1973/74, the Triumph lettering on the rear indicates our model as having Overdrive, while the TR6 identity also features in the centre of the radiator grille and also on each side of the rear wings.
The TR6 was hailed as the most successful cars to roll off the Triumph production line up to that point, with nearly 92,000 being made, with the majority being exported. A mere 8370 were sold in the UK.