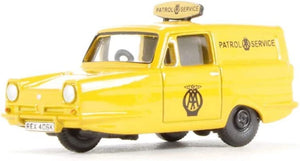 76REL001 OXFORD DIECAST AA Reliant Regal Supervan
OXFORD
Regular price $15.00 Sale
The AA was formed in 1905 famously meeting in the Trocadero Restaurant in London.
Membership of the organisation grew rapidly and five years later they had patrols across the country. Initially the cycle scouts were employed at weekends to advise members of police traps ahead, but this soon changed as they began helping stranded motorists.
In the late 1940's the introduction of two-way radio transformed the organisation as they were able to be contacted centrally to attend a members vehicle.

The Reliant Regal is almost a cult car in motoring circles, epitomising British eccentricity! It was manufactured between 1953-1973 by the Reliant Motor Company in Tamworth, during which time over 2 million were made.
Weighing under 7 cwt and with only three wheels, it was surprisingly classed as a tricycle and could be driven with a motorcycle licence instead of a full car licence

Wearing the early Automobile Association's signature yellow and black colour scheme this model includes a roof board advertising the AA Patrol Service, which is echoed along the sides. Registered REX 406K, the model features a wealth of 'chrome work' which even extends to silver trim round the side quarter light windows.