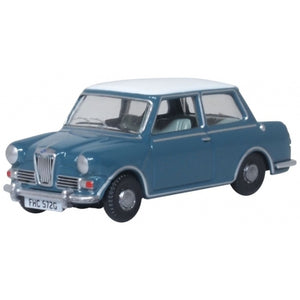 76RE002 OXFORD DIECAST Riley Elf Mk3 in persian blue/snowberry
OXFORD
Regular price $15.00 Sale
The Riley Elf Mk I was launched in 1961 as an alternative to the Mini, which had been on the British motoring scene since 1959.
Classed as a small car, it came with front wheel drive and a 4-cylinder in-line, 850 cc engine and a top speed of 70 mph. It was upgraded in 1963 to the Mk.II, when the engine size was increased to 988 cc and a top speed of 75 mph.
This Oxford model, is a replica of the Mk.III Elf, was the same mechanically as the Mk I and II but came with some refinements  with inside door hinges (as did the Mk II)  and an improved suspension. A plus over the Mini was the Elf had a separate boot.
This model is a replica of the two door, four seater Riley Elf Mk III which was launched in 1966.
Following on from the pale ivory launch model, this one gives a great colour pop in mid blue with white masked roof. The interior and the seating  of this car are both grey with black interior trim to dashboard and steering wheel.
The exterior trim is finished in silver – in an appealing contrast to the blue body colour. Finishing touches see the diamond shaped Riley badge on the edge of the bonnet and the Elf 'signature' across the boot.
The vehicle  is registered FHC 572G from 1968.