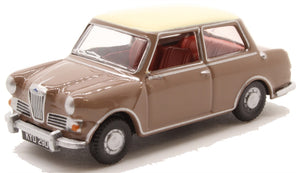 76RE001 OXFORD DIECAST Riley Elf MkIII Arianca Beige/pale Ivory
OXFORD
Regular price $15.00 Sale
The Riley Elf Mk I was launched in 1961 and was seen as an alternative to the Mini, which had been on the British motoring scene since 1959.
Classed as a small car, it came with front wheel drive and a 4-cylinder in-line, 850 cc engine and a top speed of 70 mph. It was upgraded in 1963 to the Mk.II, when the engine size was increased to 988 cc and a top speed of 75 mph.
This Oxford model, a replica of the Mk.III Elf, was the same mechanically as the Mk I and II but came with some refinements  with inside door hinges (as did the Mk II)  and an improved suspension. A plus over the Mini was the Elf had a separate boot.
 Riley had been on the automotive scene since 1890 when, as a family business, they were successfully manufacturing bicycles before developing into motorcycles and then cars. The company was acquired by Morris Motors in 1938 under whose umbrella the Riley marque thrived until near the end of the 1960s when merged into British Leyland Motors in 1968. A year later, British Leyland announced the end of Riley production and the name disappeared sadly into the annals of motor history. 
This model is a replica of the two door, four seater Riley Elf Mk III which was launched in 1966 and its registration plate KYD 29D is from that first year of production.
It was quite stylish for its day with mushroom beige paintwork and a contrasting cream roof.  The interior dash is black but the seats are a lively bright red. 
Exterior chrome work enhances the detailed radiator which carries the famous diamond shaped Riley badge in vibrant blue and silver. Additional silver trim has been applied to bumpers, door handles, light surrounds and wheels.
To round off the model, the boot also incorporates the Riley badge above the rear number plate.