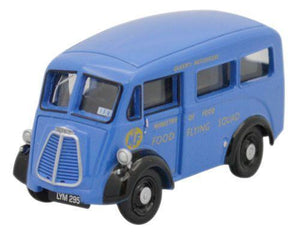 76MJ002 OXFORD DIECAST Morris J Type Van with windows "Ministry of Food"
OXFORD
Regular price $15.00 Sale
A tooling variation on the Morris J Van sees it with windows in the Ministry of Food livery.
Registered LYM 295, the bodywork on this model is a lovely shade of blue with yellow lettering and black chassis.
Additional masking is in black and silver and a fine detail not to be missed is the tiny sticker on the passenger side of the windscreen with the initials IFV, which was a wartime abbreviation for Infantry Fighting Vehicle, although its use here is one for conjecture.