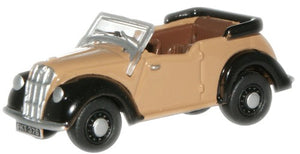 76ME005 OXFORD DIECAST Alamo Beige Morris Eight E
OXFORD
Regular price $15.00 Sale
The Morris Eight was a small car inspired by the sales popularity of the Ford Model Y.
The success of the car enabled Morris to regain its position as Britain's largest motor manufacturer.
The Series I ran from 1935-1937, the Series II was slightly restyled and in late 1938 the Series E appeared on which this model is based.
This continued in production during the war for the military, essential civilian use and export. Post war general production restarted in 1945 but there were no more tourers made in the UK.
In Australia, however, a flourishing body building industry continued to provide tourer versions on imported chassis/mechanicals.
The engine went on to be used, with very minor changes, in the Series MM from 1948-1953, they were also adapted as auxiliary power units in Centurion, Conqueror and Chieftain tanks. Morris also used this engine as the basis of special Marine and Stationary power plants. 
There was a van version of the Series E rated at 5 cwt capacity called the Z Series. It was first produced in 1940 and outlived the saloon, ceasing production in about 1953 when the engine was phased out. Over 120,000 of the Series E version were produced.