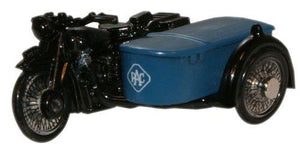 76BSA002 OXFORD DIECAST BSA M20/WM20 Motorcycle and sidecar 'RAC'
OXFORD
Regular price $13.00 Sale
The motorcycle and sidecar was a popular form of transport from the 1930s right through to the 1950s.
Used by commercial organisations as well as private bikers, the RAC (Royal Automobile Club) was a prime user.
The RAC was the main rival to the Automobile Association and like the AA used the motorbike and sidecar for the purposes of roadside assistance for motorists.
Distinctive in the classic blue and white livery as used by the RAC during this early era, the vehicle is registered PTE 799 with the number plate fixed to the top of the front mudguard.
The blue and black bodywork carries the white tampo printed RAC graphics on the front of the sidecar and a finishing touch sees the detail of a sidelight built on the top of the nearside mudguard. The motorcycle, wheels and mudguards are all finished in black.